About Us
Leadership Team
The Idaho Department of Correction's executive leadership team is comprised of the following people: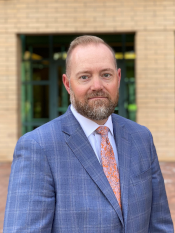 Josh Tewalt, Director
As IDOC's director, Josh oversees the entirety of the department's operations including its nine prisons, five community reentry centers, and seven probation and parole districts. The department has an annual budget of $313 million (FY22) and employs nearly 2,000 correctional professionals. They are responsible for the incarceration and community supervision of 25,000 people convicted of felonies.
Josh believes true public safety occurs when people who were breaking the law turn around their lives and become law abiding citizens. To that end, under Josh's leadership, the department has implemented a range of evidence-based programs aimed at equipping the men and women in the department's care and custody with the skills they need to live successful, productive lives in their communities.
As director, Josh has emphasized the vital and often overlooked role IDOC's frontline correctional professionals play in making Idaho safer, and he has sought to equip them with the tools and compensation they need to be more effective.
Josh has also been active in re-envisioning the field of corrections on the national level. He is an active member of the Correctional Leaders Association. He is the former chair of CLA's Reentry and Community Corrections Committee.  He now chairs CLA's Program and Training Committee, and in August of 2022, was elected by his peers to serve as the association's treasurer.
Josh has spent his career in public service, serving as staff for two Idaho governors and a U.S. congressman before serving as the IDOC's deputy chief of prisons from 2011 to 2015. Between 2015 and 2017, Josh served as the agency's administrator of budget and policy. He left IDOC in 2017 to work for the Correctional Leaders Association (then called the Association of State Correctional Administrators). Josh was appointed by the Board of Correction in December 2018.
Josh is an Idaho native and a former executive vice president of the Idaho Cattle Association. Josh and his wife, Chanel, own and operate a small livestock operation in Meridian, Idaho. They have two children.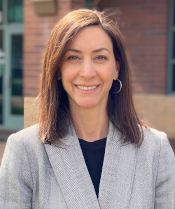 Bree Derrick, Deputy Director
As deputy director of the Idaho Department of Correction, Bree takes a purpose-driven approach to the implementation of operational reforms that improve public safety outcomes for Idahoans. She currently oversees the divisions of Probation & Parole and Prisons.
Bree joined IDOC in April of 2019 from the Council of State Governments Justice Center. While with the Justice Center, she helped more than a dozen state correctional agencies plan and implement large-scale criminal justice reforms. Bree has more than 20 years of experience working in corrections and behavioral health systems. She began her career with the Rhode Island Department of Behavioral Health, Developmental Disabilities and Hospitals. She later worked at a private psychiatric hospital and at the Rhode Island Department of Corrections. During her 10 years with RIDOC, Bree worked as a researcher and mental health clinician.
Bree is a licensed mental health counselor. She has a master's degree in counseling and a certificate of advanced graduated study in mental health counseling.
In her spare time, Bree enjoys hiking and biking the Boise foothills.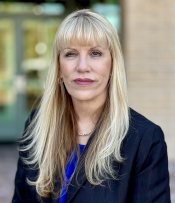 Christine Starr, Chief of Staff
Christine Starr began serving as the Idaho Department of Correction chief of staff in March 2020.  She is dedicated to improving public safety for Idahoans, supporting agency staff, and providing transparency in government. 
Christine's public safety career started during law school while working in the Legal Aid Clinic in Latah County. During that time, she also worked in the Court Assistance Office and helped to create a small claims mediation clinic in Nez Perce County. Upon graduation and passing the Idaho Bar, she served as the chief deputy public defender in Elmore County. Later, she shifted gears and began working as a prosecutor in Canyon County, where she helped with the start-up of the Family Justice Center. Christine eventually found her way to the Boise City Attorney's Office, where she served as a prosecuting attorney, public safety division manager, and civil division manager. During her nearly 15 years at the City, she worked as a trial attorney, provided legal counsel and analysis to various leaders, and drafted ordinances, policies, rules, and statutes on a variety of topics. She helped to rewrite the City's Public Records Manual and worked with a team to completely overhaul the City's public records request process to provide more efficiency and transparency for requestors and employees. Christine is a strong advocate of specialty courts and helped to start a DUI court in Ada County, where she served as the primary prosecutor for several years. Her experiences and the outcomes she observed in DUI, domestic violence, and mental health court solidified her belief in the value of alternative forms of justice and the importance of finding pathways to address the root causes of criminal behavior. 
Christine earned a Juris Doctor from the University of Idaho and a Public Administration Master's Degree from Boise State University. As a POST-certified instructor, she has spent years training and advising law enforcement officers throughout the state.
In her free time, she loves to be out on the lake, wakeboarding, surfing, and swimming with her family and friends.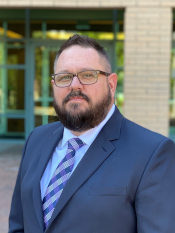 Chad Page, Chief, Division of Prisons
Chad Page has served as chief of prisons for the Idaho Department of Correction since 2019, where he oversees operations for nine state-run prison facilities, including public safety initiatives, security protocols and practices, mental health care and treatment, education services and reentry programs.
Chad began his career with the department in 2008, as a correctional officer at the South Idaho Correctional Institution (SICI). He served as an officer, corporal and sergeant before promoting to lieutenant at the Idaho Maximum Security Institution in 2013.
Chad has additionally served as the Emergency Preparedness Coordinator at Central Office and captain at IMSI. Chad was promoted to warden at the SICI in 2016. Chad began his state employment in 2000 with the Idaho Fish and Game, spending eight years working as a lead utility craftsman where he gained experience training and supervising employees while completing projects all over the State of Idaho.
Chad's hobbies are spending time with his family, photography, and shining shoes.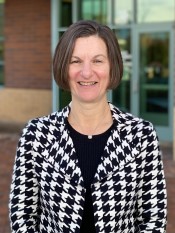 Kim Brown, Chief, Management Services
Kim joined IDOC in October of 2022 as Chief of Management Services. Management Services is responsible for managing critical business operations and support for IDOC including budget, payroll, finance, capital construction, contracts, grants, health and nutrition, and sentencing records. Management Services is a team of talented individuals that take great care and pride in their work, including demonstrating the mission of IDOC.
Prior to joining IDOC, Kim worked for the City of Boise Fire Department for 13 years and served in a few roles, including Administrative Services Manager, Fire and Police Finance Manager, and Planning & Administration Assistant Chief. This work included managing and leading teams in contracts, worker's compensation, payroll, department budgets, financial planning/analysis, lifetime wellness programs, strategic planning, collective labor agreement intricacies, department publications, data insights/analysis, and administrative services. Kim has also worked in the private sector for corporate and planning functions in industries including casinos, technology, fund investment, and capital planning. She attended college in Nevada and earned a Bachelor's Degree in Finance and a Master's Degree in Business Administration. Kim enjoys spending time with her family, spending time outdoors, traveling, watching baseball and attending concerts.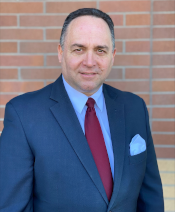 Brian Underwood, Chief, Division of Probation & Parole
Brian T. Underwood rejoined IDOC in 2019 as the chief of the Probation & Parole Division. He was born and raised in Pocatello, Idaho. Brian earned an Associate's and Bachelor of Science degree from Idaho State University. He also achieved Idaho's Advanced Peace Officer Certification and graduated from the Idaho Certified Public Manager course.
Brian began his law enforcement career in 1988 as a police officer for the City of Pocatello. He joined the Idaho Department of Correction in 1992 as a probation/parole officer, rising through the ranks to serve as district manager of the Sixth Judicial District Probation/Parole Office. From 2002 to 2010, he served as warden of the Pocatello Women's Correctional Center. On May 20, 2010, Brian took the Oath of Office as the United States Marshal for the District of Idaho, having been nominated by President Obama and confirmed by the United States Senate.
Brian loves to spend his free time with his family. He loves to eat dessert first, and believes chocolate is the cure to everything. Brian and his wife Kim have five children.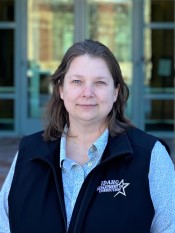 Ashley Sporer, Human Resource Officer, Human Resources
Ashley has served as the Human Resource Officer for the Idaho Department of Correction since October of 2022. She works with a wonderful team of HR professionals that support the department's mission, vision, and values by providing oversight and administration of human resource systems.
Ashley started with the department in 2015 and has held the positions of non-security recruiter, Human Resource Specialist, Senior, and Human Resource Unit Supervisor. Prior to starting with the department, Ashley began her career in human resources at Boise State University in 2005, then transferred to the Idaho Department of Fish and Game in 2011.
Ashley graduated from Boise State University with a bachelor's degree in Criminal Justice. She also has completed graduate human resource coursework at Northwest Missouri State University.  In her spare time, Ashley enjoys anything outdoors and sports related, as well as all things Marvel and Harry Potter