About Us
Board of Correction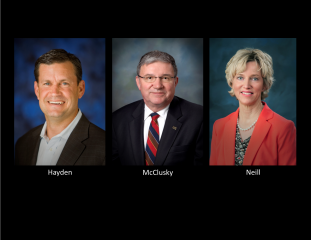 About the Board
A three-member board appointed by the governor oversees the Idaho Department of Correction. Board of Correction members are appointed to six-year terms.
Chairman
Dr. David McClusky was first appointed to the board in January 2013 by Governor Otter. He is a Twin Falls native who earned his bachelor's and master's degrees at the University of Idaho, and his medical degree at Northwestern University. David is an Air Force veteran who has been active in civic and charitable organizations in the Twin Falls area. His term expires in 2025.
Vice Chairman
Dodds Hayden was appointed to the board on January 30, 2019 by Governor Little. Dodds was born and raised in Boise, graduating from Boise High School. After earning his bachelor's degree from Bowdoin College in Maine, he accepted a commission in the U.S. Marine Corps where he served as an infantry officer for almost five years. Upon completion of his military service Dodds attended Babson School of Business for a year and then returned to Idaho to join his father at their family business, Hayden Beverage Company. Over the past 23 years, Dodds managed various groups within Hayden. Following his father's death in 2006, he purchased the business and assumed the role of president and subsequently CEO. Hayden Beverage is a distribution company headquartered in Boise that services all of Idaho and employs approximately 400 people. Dodds has been married to his wife Ali for 18 years and has two teenage sons, Carlo and Dominic.
Secretary
Dr. Karen Neill was appointed to the Board of Correction in June of 2019 by Governor Little. Karen was born in California but has called Idaho home for almost 40 years. She is the Interim Dean in the College of Nursing at Idaho State University and President of Nurse Leaders of Idaho. Karen practices in the area of forensic nursing with expertise in trauma-informed care. Her interests include camping, hiking, and being in the beautiful outdoors of Idaho.
Administrative Rules
The Board of Correction has established the following Administrative Rules [PDF] governing the Department of Correction.
Contact
Contact the Board at board@idoc.idaho.gov. Please do not submit parole information to the Board of Correction. A separate agency, the Idaho Commission of Pardons & Parole, manages those requests.