About Us
Strategic Initiatives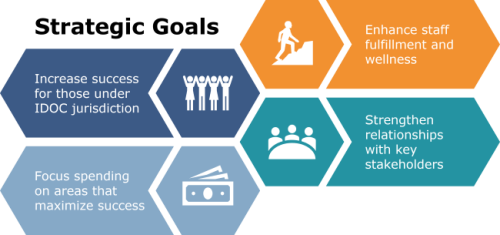 IDOC set a new strategic vision for the agency in 2021: We envision a safer Idaho with fewer people in its correctional system. At the same time, we also established four strategic goals for our agency. More information can be found in the current strategic plan.
Our strategic goals are:
To increase success for people under IDOC jurisdiction
To enhance staff fulfillment and wellness
Focus spending on areas that maximize success; and
Strengthen relationships with key stakeholders
At any given time, we have more than 50 projects happening across our agency, which roll up into seven larger initiatives. Only projects that have alignment with at least one of our four strategic goals are planned and implemented. 
Reentry

Partnership with Idaho Correctional Industries
Process and System Improvements

Building Stakeholder Confidence

Our Strategic Initiatives team includes the Information Technology department, providing technology-based tools, services, and support to the entire Department of Correction.