News
IDOC staff help kids prepare for school
August 8, 2022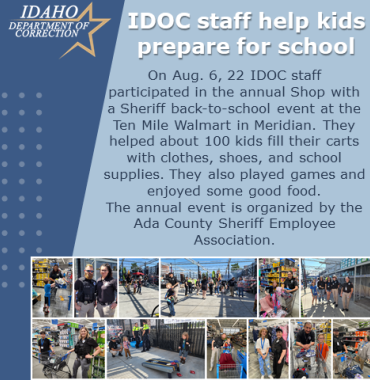 On Saturday, IDOC staff representing Prisons, Release Centers, D3 P&P, and D4 P&P participated in the annual Shop with a Sheriff Back to School event. 

The Ada County Sheriff Employee's Association and the Ten Mile Walmart worked with local agencies to ensure 100 children from the community have a great back to school experience with new clothes, shoes, and other necessities to start successfully for their new school year.

With approximately 22 IDOC staff participating, we had a strong presence at the event! 

Staff helped their shoppers fill their carts, played games, and enjoyed some food afterward. 

Thank you to all of those who helped make this such a successful event! This event is huge for the kids and the community!

#teamIDOC