Trauma Intervention Funding
Strategic Initiatives
Trauma Intervention Funding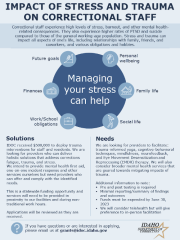 IDOC received $500,000 to deploy trauma interventions for staff and residents. We are looking for providers who can deliver holistic solutions that address corrections fatigue, trauma, and stress. We intend to provide mental health first aid, one-on-one incident response and other services ourselves but need providers who can offer and comply with the identified needs. 
This is a statewide funding opportunity and services will need to be provided in proximity to our facilities and during non-traditional work hours. 
Correctional staff experience high levels of stress, burnout, and other mental health-related consequences. They also experience higher rates of PTSD and suicide compared to those of the general working-age population. Additionally, we know that many of our residents experience abuse, stress, and trauma before entering prison and that many can be exposed to the same during incarceration.
Stress and trauma can impact all aspects of one's life, including relationships with family, friends, and coworkers, and various obligations and hobbies.
You can learn more about this funding opportunity by viewing the information flyer.
Trauma interventions for staff
Trauma interventions for residents
Applications and questions can be sent to contracts@idoc.idaho.gov
Please note this is a grant opportunity and the funding will have to be expended by June 30th, 2023.