News
Idaho prison now offering face-to-face college classes for residents
August 24, 2022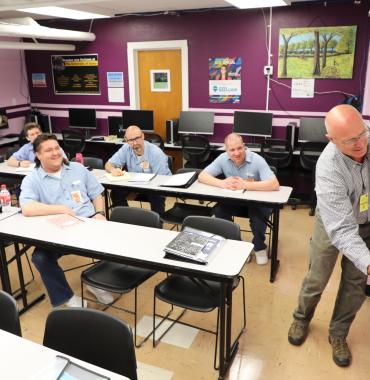 A pilot program administered in part by Lewis-Clark State College to help incarcerated individuals at the Idaho Correctional Institution-Orofino (ICIO) earn college credits and degrees held its first day of classes on Tuesday, Aug. 23. President Cynthia Pemberton and other LC State administrators were on hand to celebrate the occasion.
The program, which is under the U.S. Department of Education's Second Chance Pell Experiment, helps incarcerated individuals have greater access to higher education. The individuals can either be starting or continuing their higher education journey and can earn a credential, certificate or a college degree, which will help them gain employment upon their release.
"An LC State education empowers individuals to do more and be more no matter what your background is," LC State President Cynthia Pemberton said. "We're very proud of this partnership and excited to see the positive impact these efforts will make on both individuals and Idaho. I thank all those who have played a role in bringing this innovative program to fruition."
ICIO is serving as the pilot facility to conduct face-to-face classes delivered by LC State faculty and staff. Approximately 25 ICIO inmates took part in the first classes along with four LC State faculty members. The classes and instructors include Math 123 by professor Ken Wareham, Business 101 by instructor John Kirschman, Political Science 101 by professor Leif Hoffmann, and English 101 by instructor Lisa Goodrich.
"We are grateful to President Pemberton and LCSC's faculty and staff for helping us in our mission to make Idaho safer."
LC State was among 73 colleges and universities invited to participate in the third round of the Second Chance Pell Experiment, an initiative first launched in 2015 to expand access to Federal Pell Grants for incarcerated individuals to allow them to participate in postsecondary education programs. LC State and the University of Idaho are collaboratively administering the project with ICIO, with UI's portion of the program strictly online.
Since its inception, individuals have earned more than 7,000 credentials, certificates and degrees through the Second Chance Pell Experiment.
"Access to high-quality postsecondary education is essential to incarcerated individuals, but for far too long, people in prison were left out," said U.S. Secretary of Education Miguel Cardona. "The expansion of Second Chance Pell and these new pathways out of default are critical steps for incarcerated individuals to be able to access educational opportunities that will provide second chances to build a future."
According to research by the RAND nonprofit and nonpartisan research organization, providing education in prison has proven to reduce recidivism rates and is associated with higher employment rates. A 2018 RAND study found that incarcerated individuals who participated in correctional education were 48 percent less likely to return to prison within three years than incarcerated individuals who did not participate in any correctional education program. RAND estimates that for every dollar invested in correctional education programs, $4 to $5 are saved on three-year re-incarceration costs.